The Rising of the Shield Hero Series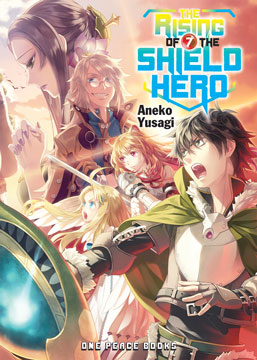 The Rising of the Shield Hero Volume 07
$13.95
364 pages
ISBN: 978-1-944937-08-9
Published: 2017
Naofumi and his friends defeat the Spirit Tortoise after it rampages across the country. They leave in search of the other missing heroes and meet Ost along the way, who says she is one of the Spirit Tortoise's servants. She tells Naofumi that the Spirit Tortoise is still alive and that someone is pulling the strings to use the tortoise to destroy the world! Can Naofumi protect those he loves from this new danger?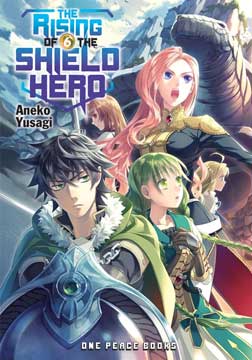 The Rising of the Shield Hero Volume 06
$13.95
400 pages
ISBN: 978-1-935548-56-0
Published: 2016
After their battle with Glass, Naofumi and his friends work to revitalize the Cal Mira islands before returning to the castle. On the ship back to Melromarc, they meet a young girl named Rishia, who claims to have been tricked and abandoned by her companions. Naofumi, sympathizing with her fate, agrees to listen to her story, and she joins the party. Eventually, Naofumi discovers that she has a talent for transformation magic, but before they can discuss it, someone comes running to beg the heroes for assistance. A monster wearing something like a turtle shell needs to be chased off. The monster is so powerful that even the mightiest adventurers cannot defeat him—so what hope is there for Naofumi? Those answers and more in volume 6 as the epic fantasy continues!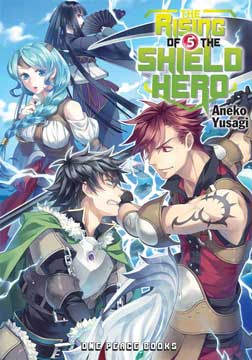 The Rising of the Shield Hero Volume 05
$13.95
402 pages
ISBN: 978-1-935548-67-6
Published: 2016
Naofumi is off to the Cal Mira islands, where he plans to continue leveling up. Soon after arriving he meets a mysterious young man named L'Arc Berg. But how will this curious new character impact Naofumi's adventures? Surrounded by mystery and intrigue, Glass makes her second appearance. Aneko Yusagi's epic fantasy continues in volume 5!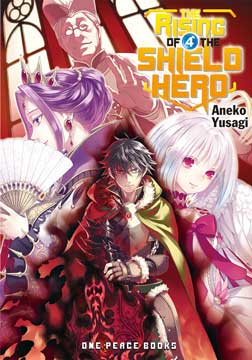 The Rising of the Shield Hero Volume 04
$13.95
392 pages
ISBN: 978-1-935548-65-2
Published: 2016
Naofumi is on the run. Relentlessly pursued by Motoyasu and the others, Naofumi turns to a new friend for help—but things are not as they seem. A corrupt nobleman from Raphtalia's past returns to unleash an ancient beast. Too large and ferocious for Naofumi to handle, the party seems to have met its match when yet another mysterious character makes her debut. Soon later, the mastermind behind Naofumi's troubles is revealed. Enemies come out into the open as an epic battle for the fate of the heroes unfolds—just in time for the long-missing queen to arrive. The truth behind Naofumi's betrayal, the secret of the Church of the Three Heroes, and reasons for the mounting tensions of war are finally brought to light, just as newer, deeper mysteries come to the surface!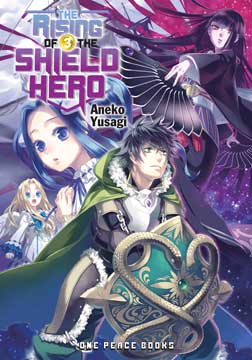 The Rising of the Shield Hero Volume 03
$13.95
392 pages
ISBN: 978-1-935548-66-9
Published: 2016
Naofumi Iwatani, still beset by enemies, continues to adventure and battle his way through a fantasy world—a world he was suddenly thrown into without warning. In the third volume of this epic series, he encounters new friends and foes. A powerful threat revels herself in the midst of an epic battle. A new companion with a penchant for magical birds, and tied to the royal family, appears at his side. And once again we find Naofumi plotted against, set up, and betrayed. Will Naofumi escape his pursuers and help the poor people of this strange world? Or is he forever doomed by the aggression that threatens to overcome him from all sides—and from within?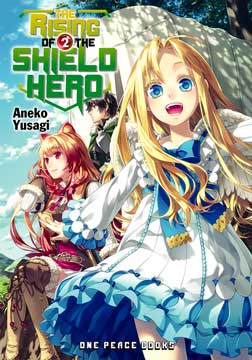 The Rising of the Shield Hero Volume 02
$12.95
344 pages
ISBN: 978-1-935548-78-2
Published: 2015
Naofumi Iwatani continues his adventure in this second volume. But his task is not yet complete and obstacles mount as the increasingly ominous waves of destruction approach. He finds a new friend and new powerful abilities that may prove to be too dangerous for the companionship. Will Naofumi live up to his role as the Shield Hero and save the world from its prophesized destruction? Or will his dark side consume him?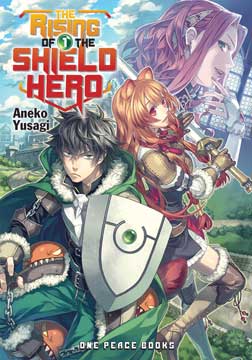 The Rising of the Shield Hero Volume 01
$12.95
344 pages
ISBN: 978-1-935548-72-0
Published: 2015
Naofumi Iwatani, an uncharismatic otaku who spends his days on games and manga, suddenly finds himself summoned to a parallel universe! He discovers he is one of four heroes equipped with legendary weapons and tasked with saving the world from its prophesied destruction. As the Shield Hero, the weakest of the heroes, all is not as it seems. Naofumi is soon alone, penniless, and betrayed. With no one to turn to, and nowhere to run, he is left with only his shield. Now, Naofumi must rise to become the legendary Shield Hero and save the world!
Aneko Yusagi was born in Kanagawa. After growing interested in reading and gaming, Aneko began to write novels. Aneko wrote The Rising of the Shield Hero and began posting it online. After updating the story daily, an unprecedented amount of readers became addicted to the rapid pace of the advancing story, and the novel became an online hit. It was first collected and published by Media Factory in Japan in August of 2013. Aneko Yusagi was recently quoted saying, "I will rise and find great success in life."