Mikagura School Suite : The Manga Companion Series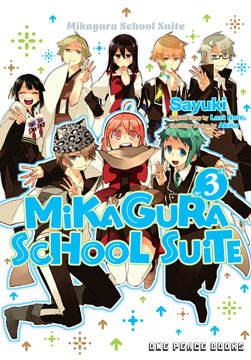 Mikagura School Suite Volume 3: The Manga Companion
$11.95
184 pages
ISBN: 978-1-944937-99-7
Published: 2018
Eruna puts her membership in the Going Home Club at stake and challenges Seisa, only to face her own tragic defeat. In her next move, she decides to create a brand-new club on her own! With the rookie battle just around the corner, she opts to work with the Drama Club, led by representative Akama. But will things really go her way this time?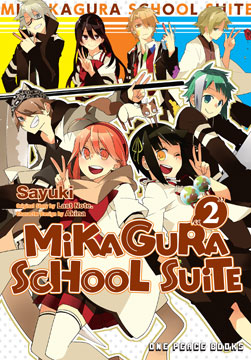 Mikagura School Suite Volume 2: The Manga Companion
$11.95
184 pages
ISBN: 978-1-944937-98-0
Published: 2018
At Mikagura Academy, cultural school clubs engage in battle using mysterious special powers. When a new student joins the Going Home Club and inexplicably wins her first battle, she is thrilled. But becoming an official club member is harder than she expects. Whether it is Calligraphy Club, the Flower Arranging Club, or the Drama Club, Mikagura Academy's clubs are serious business!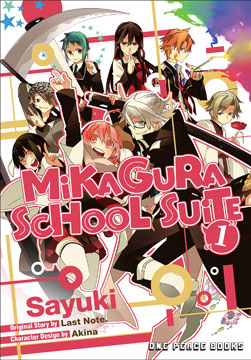 Mikagura School Suite Volume 1: The Manga Companion
$11.95
184 pages
ISBN: 978-1-944937-34-8
Published: 2017
Eruna Ichinomiya is preparing to enter high school, but there's just one problem—none of the schools interest her! The uniforms are all too boring, until she discovers Mikagura Academy. After Eruna miraculously passes the entrance exam, she discovers that Mikagura Academy isn't a typical school. Mikagura Academy only allows students to form culture-themed school clubs, participation in those clubs is compulsory, and there is a battle system where students must compete with each other as representatives of their clubs. Now Eruna must discover her own power and win her first battle!
Last Note. is a well-known vocaloid artist, who created the popular composition TensionMax. This music was the basis for inspiration behind the light novel series Mikagura School Suite, which has subsequently spawned both a manga and hit animated series.